Once again I am doing a Birth control and bigger boobs post. If you are a long time follower of mine you would remember I did a post back in 2011 about my birth control journey and the different ones I have been on.
I went onto Alesse back in the day because I thought it was my birth control that was causing me to break out and I had other side effects along with it. I was on Alesse for my whole year in college more or less and for once had zero side effects!!! 😀 It was the birth control that was made for me. I had zero pains, zero emotional imbalances and everything seemed to be back to normal. Over the months I did notice I had worse pms symptoms, My cramps would be a lot worse around that time of the month. I had a few times where I had to stay home from school because the pain was what I was not used to. But 1 day out of the week wasn't going to kill me. I could have gone to school if I had Midol but we didn't have any at all so I stayed in bed an suffered. 🙁 But those cramps would only last one day so nothing severe 🙂
The only problem's was the the Alesse did not clear my acne problem at the time. So I figured I needed a different birth control to help clear it. Also the one thing that majorly depressed me about Alesse was that it made me boobs shrink a whole size…. I went from a full B to being a random in between and A and a B cup. My bra size didn't even exist in stores!!!! WTF!  My size only existed in specialty bra store and that was just ridiculous. Other then those two problems, I more or less was happy on Alesse. It made me a happy girl! other then the boob and acne situation.
I then went to my dr. to discuss my acne problems. She switched me onto Dianne 35, which is commonly used to treat severe acne in females that can be caused by having too much testosterone in your body. I liked this pill very much at first. It was a high estrogen pill that filled me with female hormones. In turn, it brought my boobs back to the size they used to be and stopped the horrible cramps I would get one day out of the month. But, it did nothing for my acne. I stayed on this pill for quite a few months only because I did not want to lose my boobs again!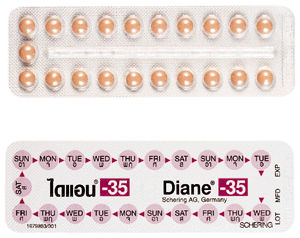 I was happy with how my body looked, especially when I lose the 10 pounds of weight I gained in college. Dianne was great for me. Until half way through the summer I noticed I was starting to get horrible side effects from it. At first I thought it was just my body being mean to me haha! But then I got thinking it probably was the Pill. The Dianne 35 started giving me severe headaches on a daily basis. I was consistently angry and grumpy because of this as you can imagine. I then noticed I was getting numbness in my legs and arms every so often which was horribly uncomfortable. On top of that once when I had the numbness I had a random hot spot on my leg. I did some research and learned all these side effects are very serious side effects of the pill and you need to see a dr. asap! The side effects I was experiencing were all signs that the pill was possibly causing me to form blood clots!! Which can lead to death. I was shocked! I immediately scheduled an appointment with my dr. to discuss my options.
To my disliking she insisted I go back onto the Alesse. She claimed the pill I was on was too strong for me and since my acne was cleared from a different medication, I no longer needed such a strong birth control anyways.
Obviously I didn't want Alesse again for only one reason… I didn't want to lose my boobies again!!! o(╥﹏╥)o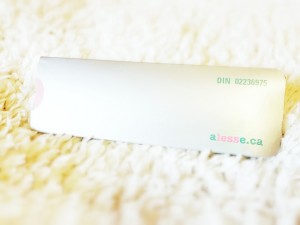 Now I am back on Alesse, yes it is one of the best birth control pills I have ever used. Just the fact that for me it makes my boobs small is my worst nightmare. I'll admit I love my body but my boobies need to be a little bigger for it to look perfect! So here I am afraid to lose my boobs once again. Sad sad days.
But this time I am prepared! Over the year I have done a lot of research on herbal supplementing to increase breast size! Since we all know I am not too hot on the idea of implants seeing as it is way to expensive. I have looked for alternatives to naturally fight having small boobs! hahaha!
I am working on starting my daily routine of herbal pills that have been proven to increase breast size, balance hormonal levels, and fight pms symptoms all in one, to see if it'll help me in the breast department. Now that I have a paying job I could finally start testing out to see if it will all work for me!
This is where stuff is going to get on a personal level 😛 So I am going to share my routine and how I have felt on it the past 2 weeks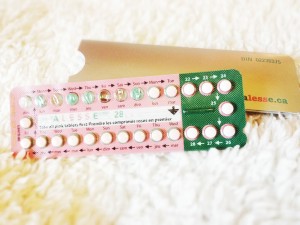 I am currently taking my Alesse pills which automatically add female hormones into my body as we all already know 😛
On top of that it is recommended always that you take a multi vitamin which I always have. But it also it highly recommended that you take one if you are planning on doing herbal supplements.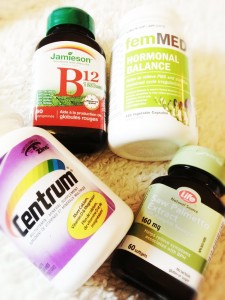 I am taking my centrum for women once daily like I have always been, Plus a female combination herbal supplement that has herbs in it that help with hormonal balancing for pms.
*They had one for breast enhancement but it had only half the ingredients complained to the hormonal one required for actually breast enhancement :S. Trying to scam you.*
I take an extra B12 because I'm naturally deficient in it apparently 😛 Plus it is always good for you!
For my boob routine:
I looked for Saw Palmetto (SP) because it is one of the top herbs known to increase breast size and is widely used in breast growth routines. The FemMED contains 200mg of SP as well. I started by taking 360mg in total of SP. 
I also looked for Milk Thistle ( MT ) which is also a top herb used in breast growth routines. Since I couldn't afford much at the time I only got the femMED which contained 50mg of MT.
femMED also contained Wild Yam ( WY ) extract which once again is a good herb to use. It only contained 50mg.
I am started my program off small and will raise my dosages once a week or so to gauge how much my body needs to see an improvement.
Week 1&2
Within these two weeks of being on Alesse my breast size has gone down, but not nearly as much as it had the last time I went on Alesse. My supplements I am taking to increase breast size has lead me to believe that it is working so far. I have only lost a small amount of fullness and no size really. I have maintained firmness and can feel it working. I can indeed tell that my program is working and will work the more I increase my dosages.
Half way through week two I have increased my SP amount by 1 pill. I hope to see an improvement within a week. Nothing drastic but something you know? 🙂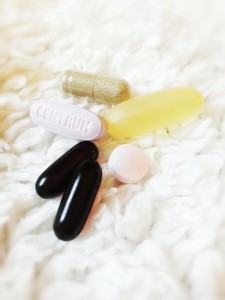 My current routine is now:
SP: 520 mg
MT: 50 mg
WY: 50 mg
and more little random stuff in the femMED which I honestly don't think contributes much to breast growth. Plus my multi vitamin, my added B12 and a Salmon oil because it is recommended when taking herbal supplements to include an omega oil. But it is always recommended for good health too. I usually always take one 🙂
With my next pay check I plan to change my plan to at least be:
SP: 1000 mg
MT: 500 mg
WY: 100 mg
Fenugreek ( FG ) 500 – 1000 mg
I have not yet got my hands on Fenugreek because my local drug store did not carry it or I seriously couldn't find it 😛 It is an important supplement to include with a breast growth routine because it has been known to work extremely well with Saw Paletto (SP) and it strongly recommended. Once I get my hands on some I plan to first try 500mg and if that doesn't give me the desired results I will raise the dosage to 1000mg 🙂
So far with my current routine I have maintained my size which I normally on Alesse alone would have lost by now! So I am super happy!
My boobs are the same and my headaches and pains are gone! I am a happy girl!
I will update you all later when I increase my routine! I hope this post has taught you well and helped and small breasted girls out there who want bigger boobs but can't afford or don't want to do plastic surgery 🙂