Bau House Dog Cafe
A dog cafe! That's right, a cafe where you go to hang out with a bunch of different dogs.
As a foreigner outside of Korea, this may seem very odd, however in Korea it is a popular destination for both Koreans and Foreigners!
Dog Cafes are becoming more and more popular in Korea. Why? In Korea, almost everyone lives in apartments since there is not that much free land space to own a front yard or even a back yard. Therefore, owning large dogs is not easily done and can most of the time be against the rules of your apartments landlord. For those who love large dogs, this can make them sad. So where else can they play and pet large dogs? Dog cafes of course!
If you are a dog person living in Korea but can't own a dog, visiting a dog cafe can be a great way to put a smile on your face during stressful times. It can even make you feel a sense of home if you are missing your dog/s you own back in your home country.

Directions
Bau House Dog Cafe is easy to get to as long as you are familiar with taking the subway in Korea. Even if you aren't family with it, you can always rely on the Subway App to subway directions (learn about public transit in Korea here).
It is simple to find! Take the subway to Hapjeong Station then go to Exit 3. Once you exit the subway station, head behind exit 3 and walk to the first street on your left hand side. Walk down that street and you will see a sign on the right side pointing to Bau House Dog Cafe. Keep walking down the street past the 7/11 and you will see Bau House Dog Cafe on your right hand side at a small intersection.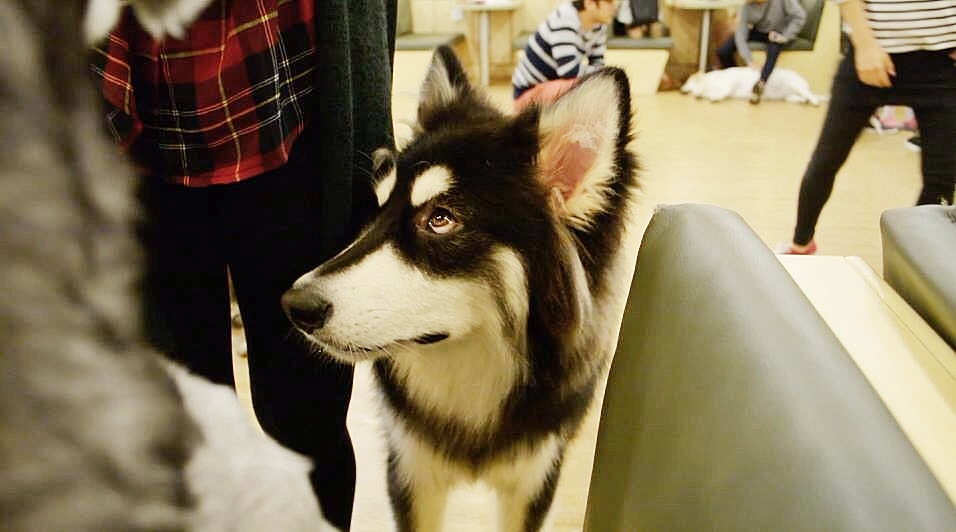 Things to know
Bau House Dog Cafe technically does not have an entrance fee. However you are required to buy at least 1 drink while you are there. The drink prices are quite high. This is their way of charging an entrance fee. They have a large variety of drinks to choose from! The menu is in both Korean and English. I recommend you come to the cafe with at least 15,000 won in cash, this will be enough to cover your drink cost and let you buy treats for the dogs if you want to :). Treats are fairly cheap running from 1,500-5,000 depending on how fancy you want to be.
To buy dog treats, you must go to the cashier and select your treats you want to buy. The staff speaks some basic English, enough to understand.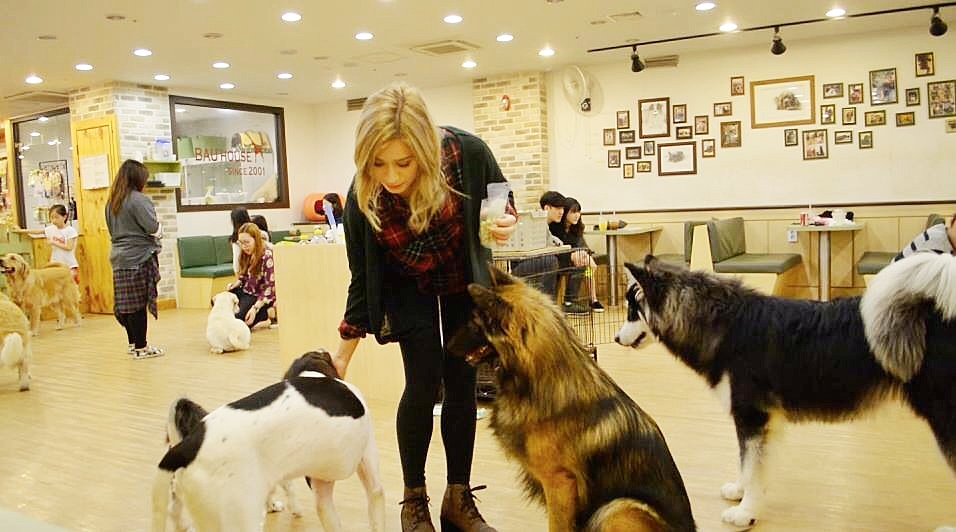 My Opinion
Bau House Dog Cafe was interesting! When we visited it was fairly busy with lots of kids and families bringing their dogs as well. So the place was fairly crowded and very loud. However after 1 hour the families and kids started to leave making it more of a peaceful environment. The dogs aren't toilet trained so they "go" where ever they want. Which can make you feel dirty… but the staff is very quick to clean and sanitize the mess which was great to see. However it would be better if they could work on training the dogs to go on pee pads. But I can see how that would be extremely difficult with all the dogs visiting and owners not caring what their dogs do.
However I did very much enjoy my stay there! It was refreshing to see dogs playing and having fun.
But I think I am more of a cat cafe person. Not as crazy, more of a peaceful environment. 🙂
---