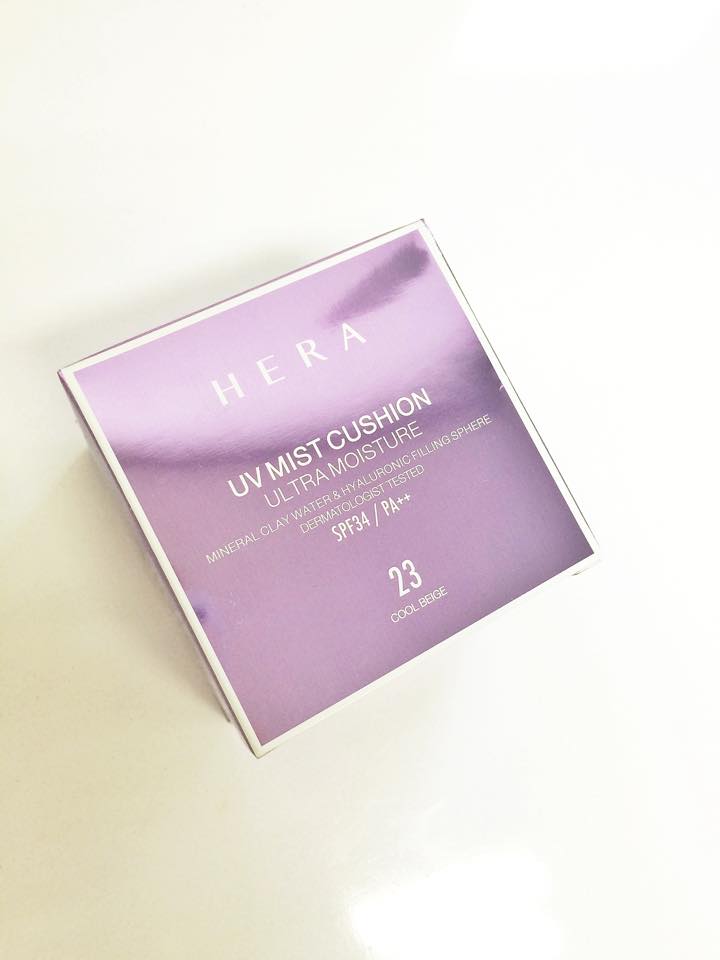 The HERA UV Moist Cushion in Ultra Moisture #23 is the "moisturizing" version of the original UV Moist Cushion.
After 1 week of contemplation, I caved and ordered the cushion off of Gmarket for around $50 CAD.
Because this cushion is more of a "Luxury" brand, I was very sceptical as to it would be really worth the $50 or not.
I ordered my cushion in #23 which is the darkest shade. My natural skin tone is a MAC NC25 and from what I could tell from online photos, the #23 Cool Beige would be the closest match to my skin tone. I chose to order this item online instead of in store because every time I have previously gone to buy a foundation/bb cream/powder/cushion in the store, I have always been matched "too light". So when I get home or out in the sun light, I can clearly tell the color is too light, which overall makes me look sick 🙁
Product Claims
The HERA UV Moist Cushion Ultra Moisture claims to provide deep moisture that lasts that will smooth the skin with Keratin care.
The product is also advertised by fashion models and actresses as their choice base makeup item. It also has sun protection of  SPF34 with PA++.

My Experience
I was so excited to receive this item because it was so expensive!
When I first swatched the cushion on my skin, I thought "omg! it's a perfect match!". Which I wasn't expecting since it was an online purchase.
After 1 minute on the skin, the color appeared to oxidize a bit making it appear more yellow. After a couple more minutes, the color looked just right!
The product did not transfer off my skin onto my sleeve at all throughout the rest of the day of having it on my arm. However it did have a very strong perfume scent that was very florally.
After 30 minutes, the scent faded and became subtle, but did last a few hours.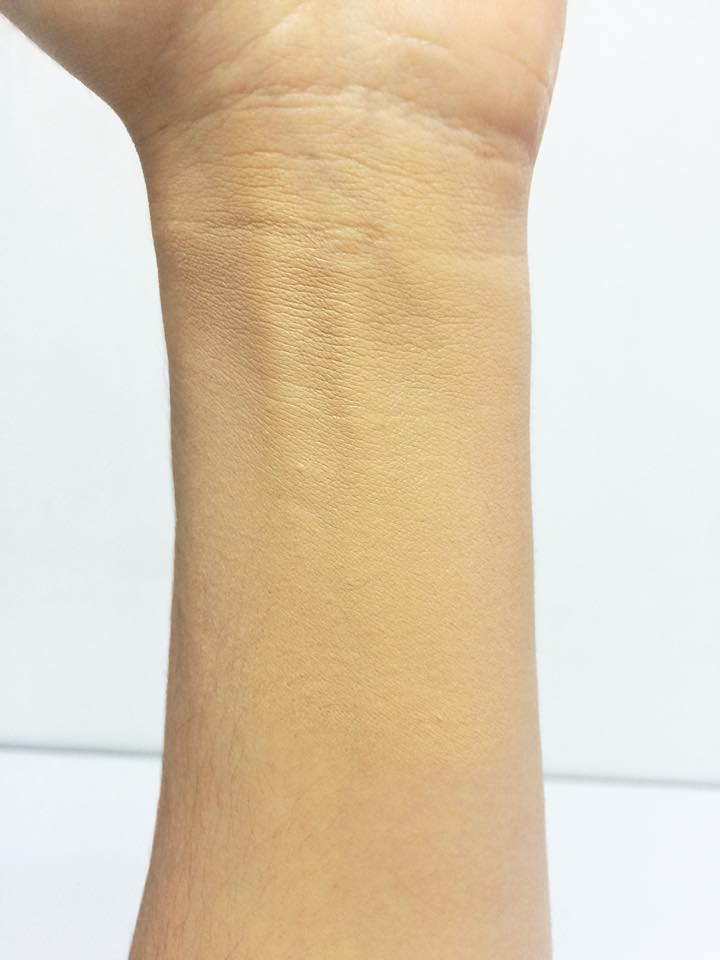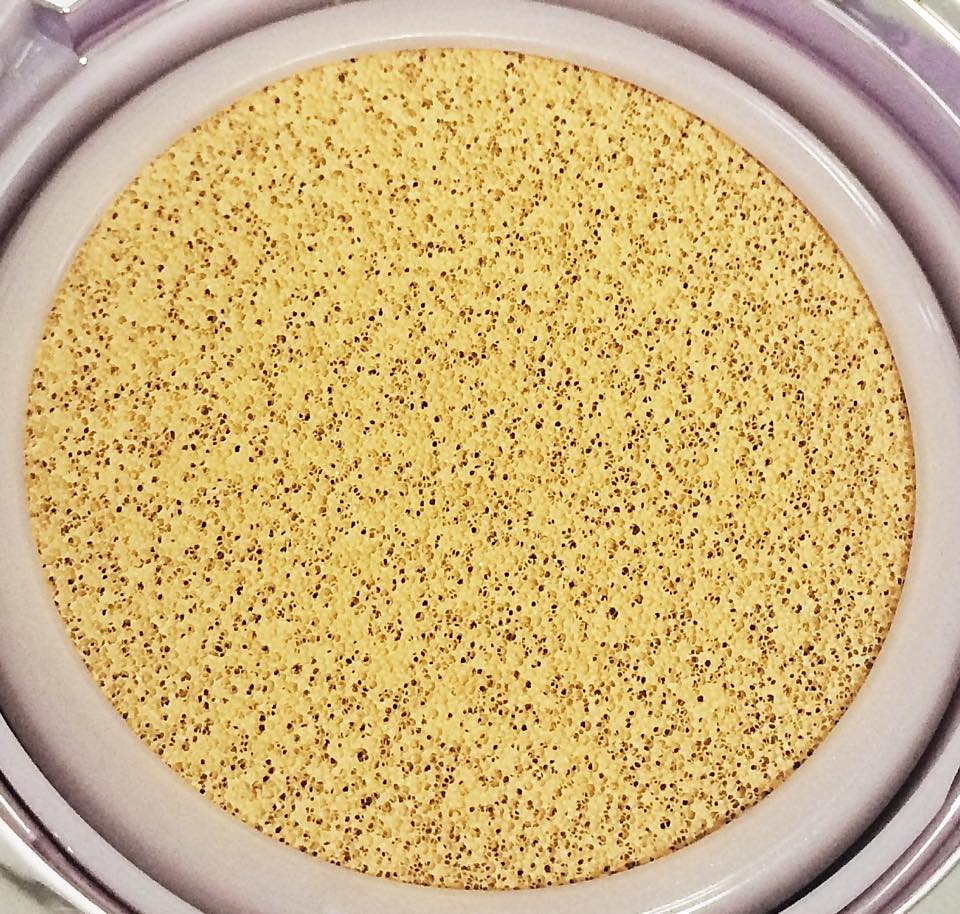 Skin Reaction
I have been using the HERA UV Mist Cushion Ultra Moisture for 1 week straight, wearing it from 8am till 9pm every day.
The cushion claims to be Ultra Moisturizing, however I have not noticed my face feeling significantly more moisturized when wearing it.
In fact, I don't even set this cushion with powder, it also sets itself if you know what I mean.
When first applied at the end of my skincare routine (after serum & cream), the cushion feels like a cooling mist has been applied to the skin.
After completing the rest of my makeup routine, the cushion on its own has set. Becoming a natural looking satin finish.
My skin is combination/dry. If you have oily skin, I can see how this cushion can give you a dewy look. However without a finishing hydrating mist, this cushion did not provide me with a "dewy look" but instead a natural satin finish.
By the end of the day, my skin feels pleasant. It does not feel oily, nor does it feel dry or dehydrated. I also do not feel a strong urge to wash my face as soon as I get home!
My skin did not experience any sort of bad reactions. No hives, no itching and NO BREAKOUTS!
Which is absolutely shocking for me since all foundation type products usually break me out.
This is also surprising to me since the product has such a strong amount of fragrance in it.
The coverage of this cushion is a buildable medium. It can be applied softly for a light coverage and with a second layer, it becomes a medium coverage. Effectively covering my faded post acne scars enough to not feel the need to apply concealer.
Packaging
Is so pretty! It feels very sturdy, comes with a very soft sponge and has a very sweet pearly pink/purple color to it.
I'm not a huge fan of the glittery lid, but I got over that fast. 🙂
Like most other cushions, this product came with 1 cushion within the packaging as well as 1 refill cushion.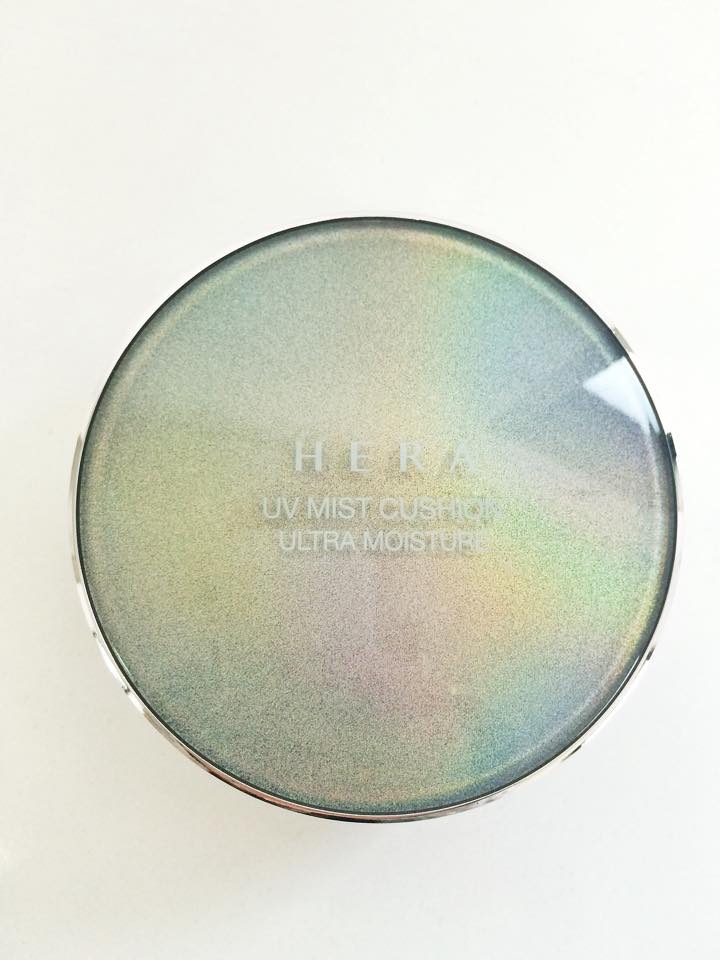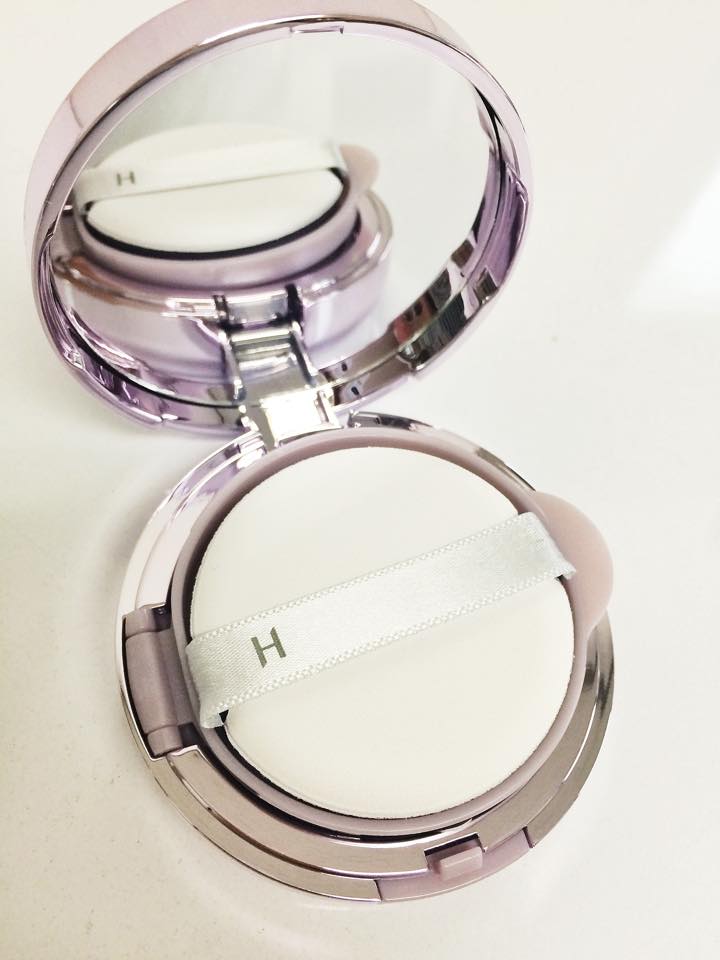 Additional Info
The ingredients list was not clear on the item packaging as it was all in Korean. Ingredients were also hard to find online. As of immediate information, this is what was provide on and within the packaging.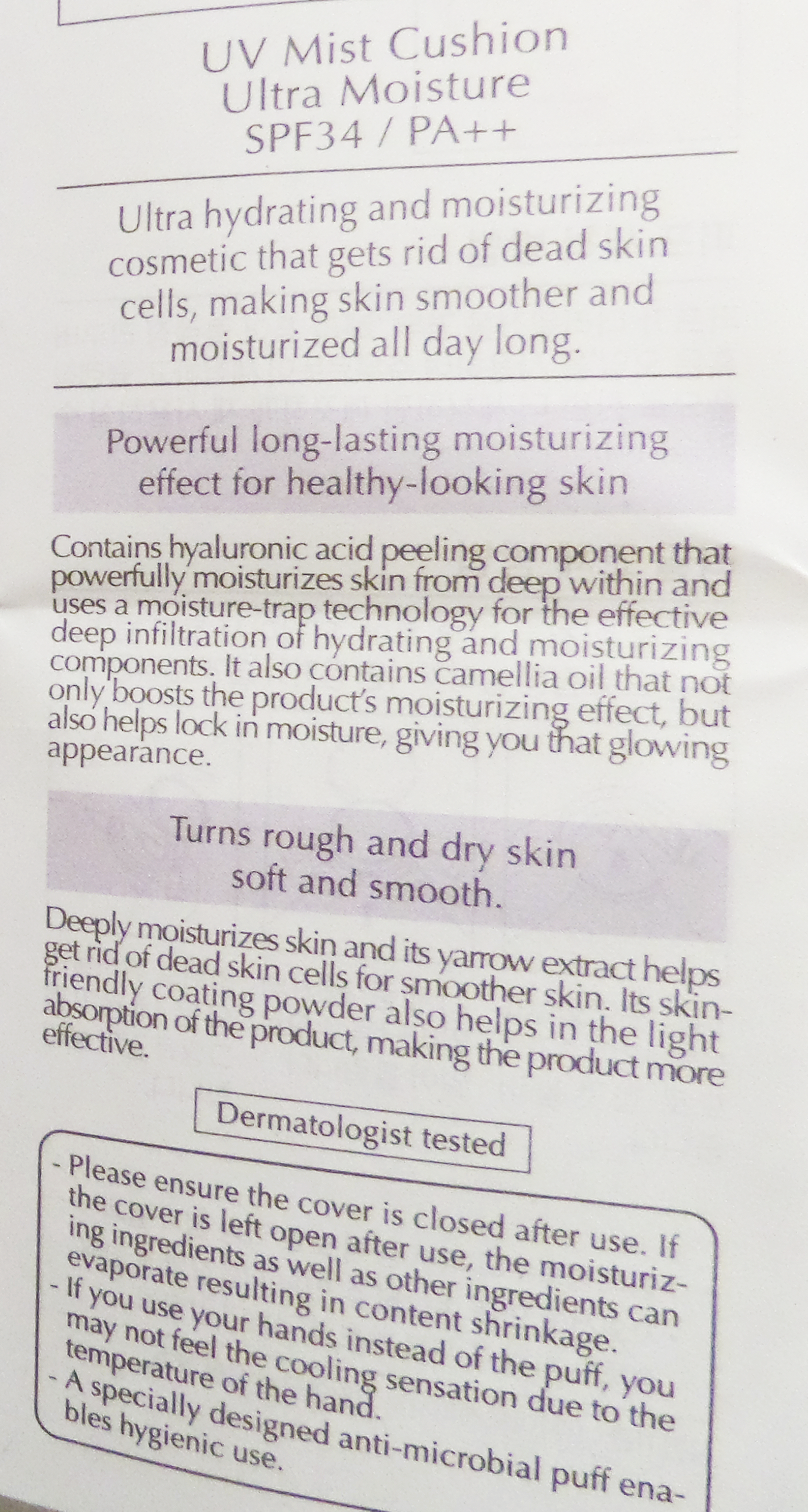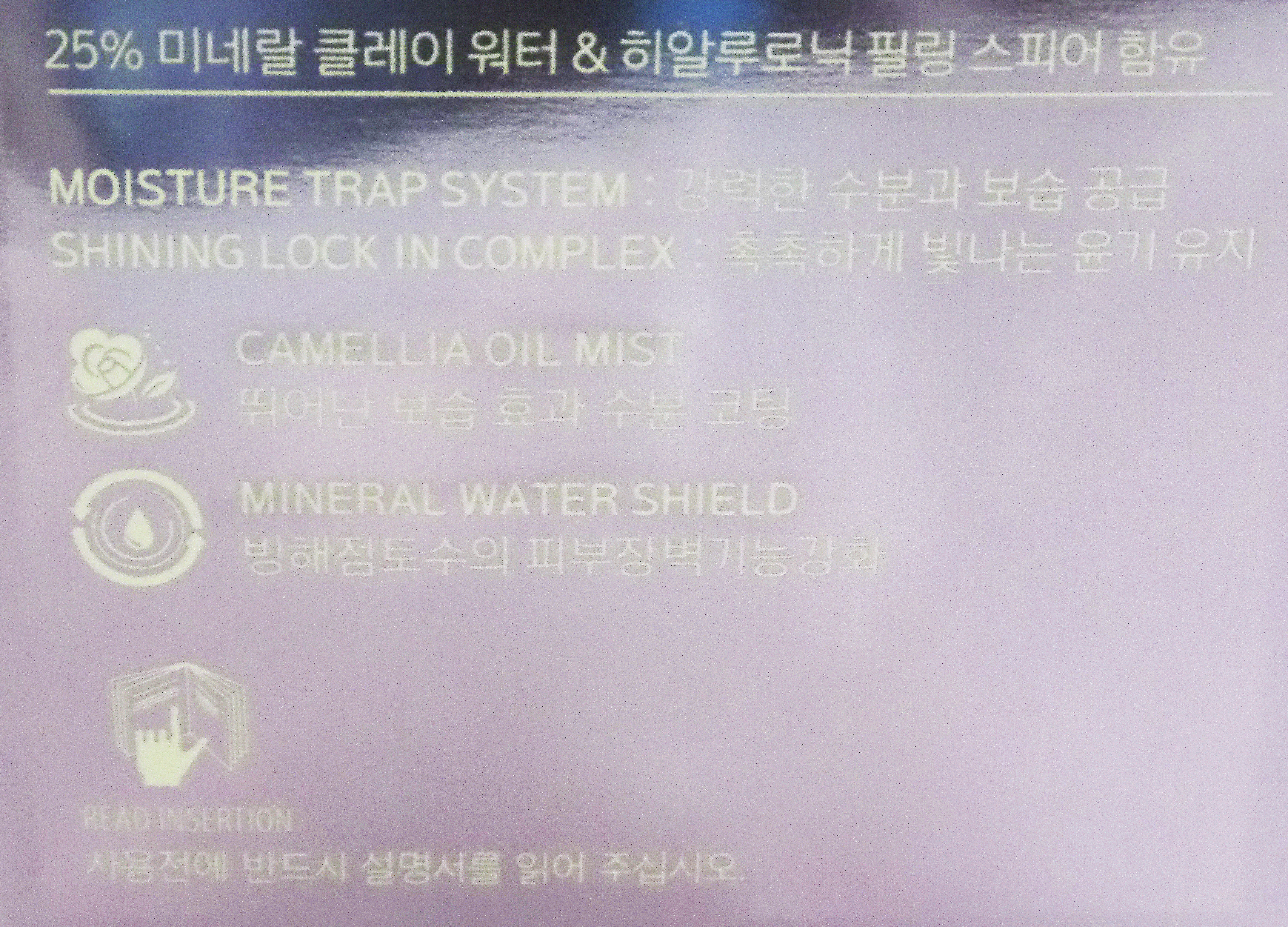 Overall
I am in love!! I have never had a base makeup experience that has been this good with my skin! I usually experience at least some form of irritation! However, with the HERA UV Mist Cushion Ultra Moisture, my skin is extremely tolerable and looks amazingly flawless with it on!
My skin looks naturally perfect! You can't even tell I'm wearing makeup!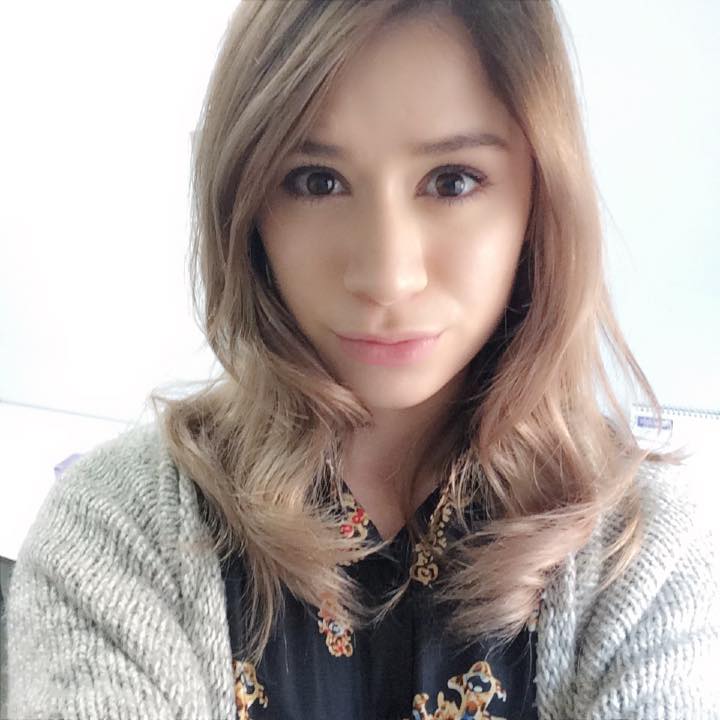 I feel like I found the secret to why every Korean women looks flawless when they are all dressed up!
I will 100% repurchase this cushion when it runs out 🙂
WHERE TO BUY
I got my HERA UV Mist Cushion Ultra Moisture in #23 from
Gmarket – Click to Get it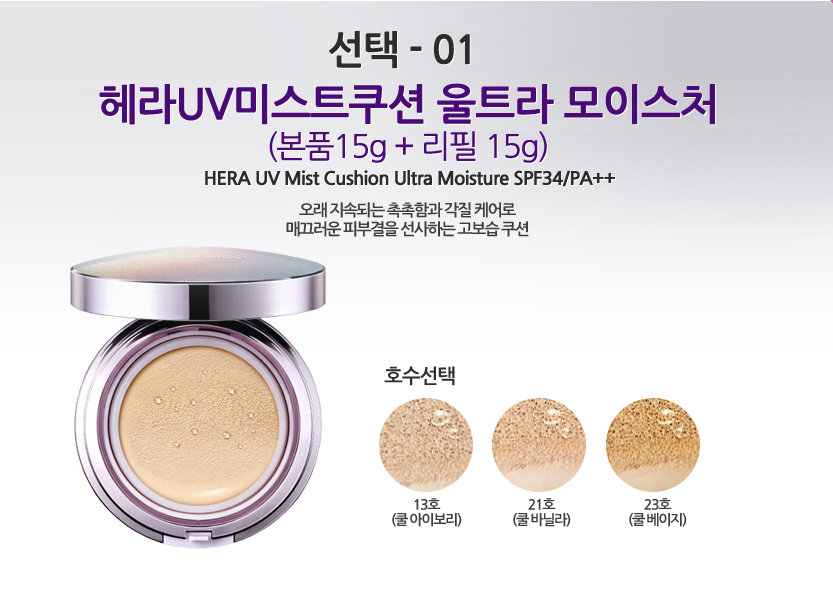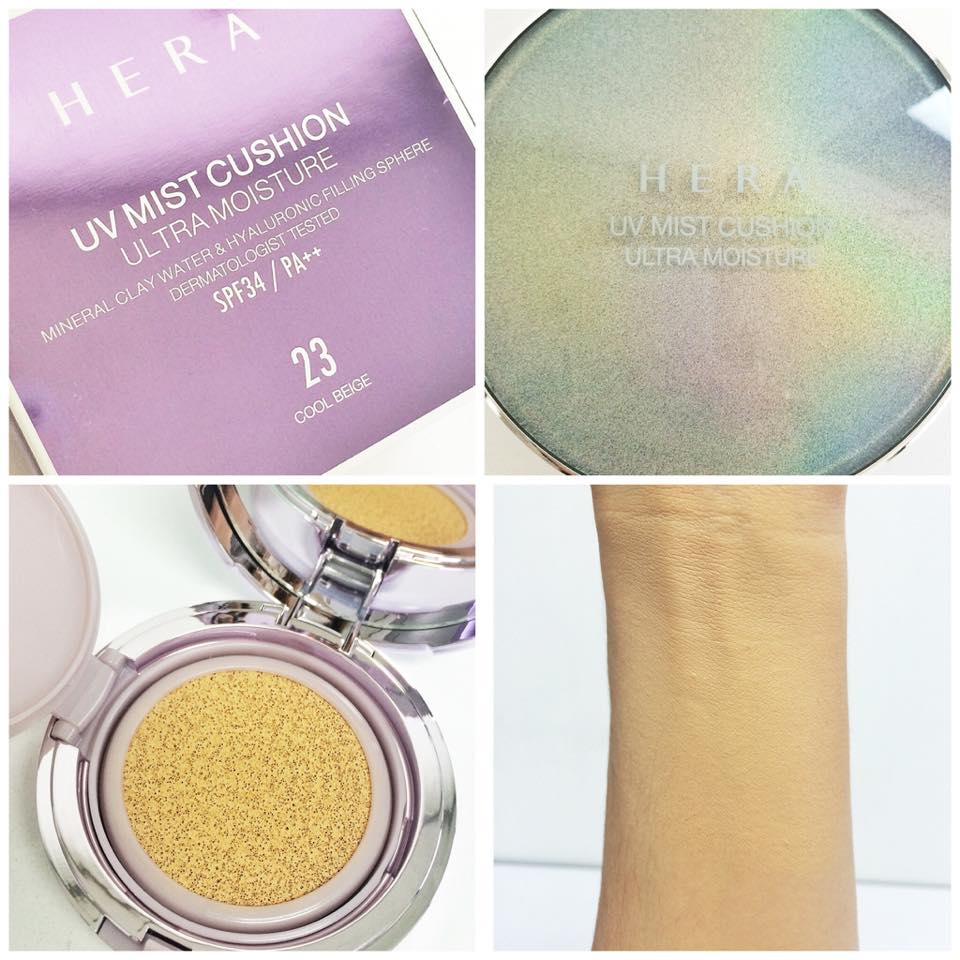 ---