Hi Loves!
Today I am here for an In-depth review on the new cushion from Innisfree, Ampoule Intense Cushion Cover!
This cushion is a modified formula of the popular Innisfree Ampoule Intense Cushion, only the difference is more coverage. The original formula was more of a cc cushion that provided deep moisture and hydration for dry skin types and also a very dewy look. However it was more of a cc cream or tinted moisturizer that provided little to no coverage.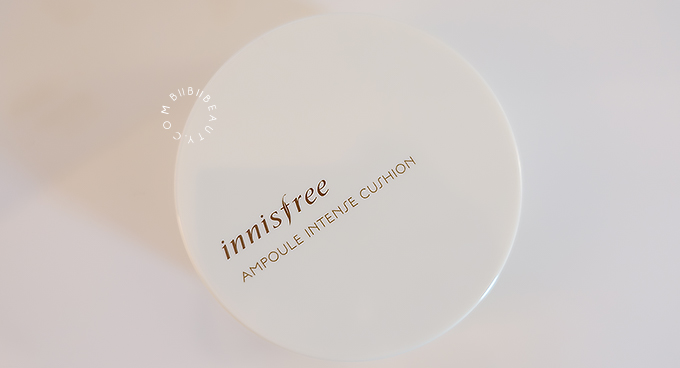 To be honest, the original formula never interested me when I tried it in the store, because it had basically no coverage. For me, I am someone who prefers a medium coverage, which is why as soon as I saw the new COVER formula, I just had to get my hands on it for the upcoming winter season!
Packaging
The Innisfree Ampoule Intense Cushion Cover has the exact same packaging as the other cushions from Innisfree. Which to be honest I am not a huge fan of. The sleek and simple package has an appearing appearance. However the build is not very sturdy. It feels more on the cheap side and it is very important you make sure the puff holder is tightly sealed to the cushion foundation or else it will prevent the case from closing properly. I had this same issue with the Innisfree Long Wear Cushion, which I did not review on this blog because I just didn't like it one bit.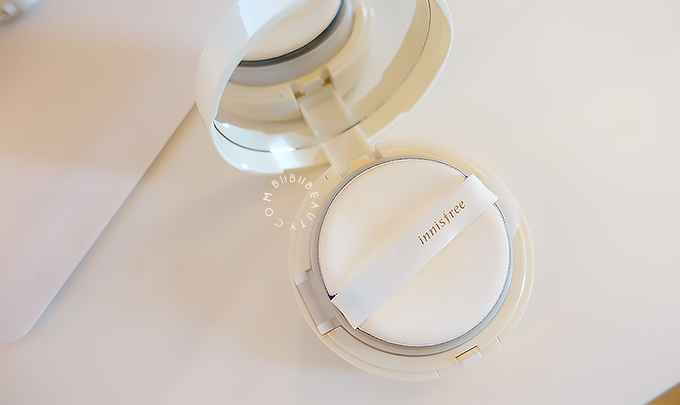 The cushion puff applicator is one I actually like alot and its quality is very similar to the HERA UV Mist Cushion in Ultra moisture which I have previously reviewed. This puff is very dense and high quality. It does not dissolve or crumble and allows for smooth application.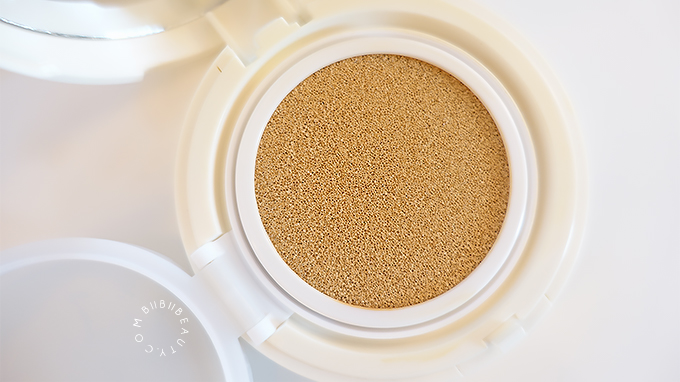 The sponge itself dispenses product easily and does not dissolve or crumble. This sponge is the same as all other Innisfree cushions. However personally. I find this type of cushion sponge to not be very hygienic. I prefer cushions similar to the Banila Co design. So just make sure you always apply to a clean face and you clean the puff applicator regularly.

Texture & Color
Now this is the part that truly makes this the best bb cushion for dry acne prone skin. This provide has a very rich and smooth texture that is actually very liquid like and not heavy at all! It has a very deep hydrating texture and the color is perfect for my skin. As I have mentioned in other reviews, my skin tone is MAC NC25 and my Korean shade is usually 23.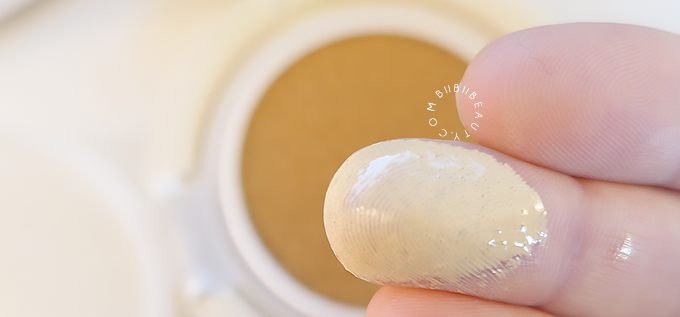 I got my Innisfree Ampoule Intense Cushion Cover in number 23 which is my perfect shade. This shade is very neutral with a little extra yellow tone. In person, this cushion blends perfectly with my skin.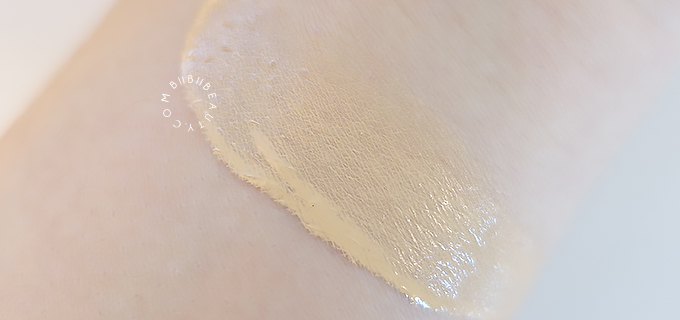 Application & Coverage
Now time for the true test, coverage! I recently made the move back to Canada and as such, I had a huge stress acne breakout which left me with some lovely fresh post acne scars. So it was the perfect time to test if this is the best bb cushion for coverage on dry acne prone skin.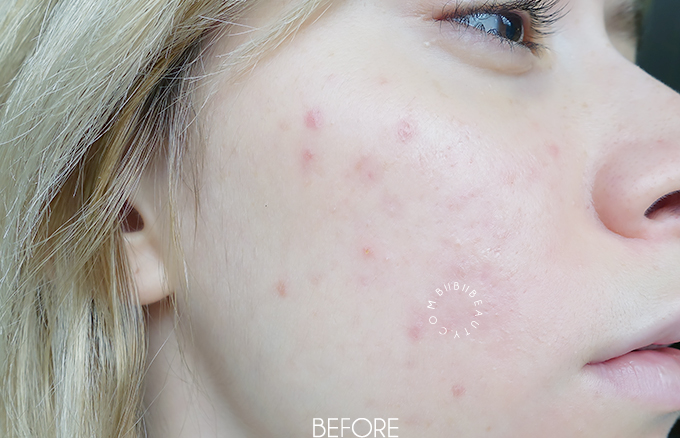 Using the puff applicator provided, I patted the provided onto freshly cleansed skin with my usual skincare routine added. This really is the best bb cushion for my skin type! It applied evenly and smoothly over my skin. It did not cling to dry patches and it did not look blotchy over my skincare products. It covered all my scars evenly to the point where I did not feel any need for concealer. However personally for me, I would prefer to add a light concealer to my under eyes for a brighter and highlighted look. In these photos, I am only wear 1 coat of the Innisfree Ampoule Intense Cushion Cover.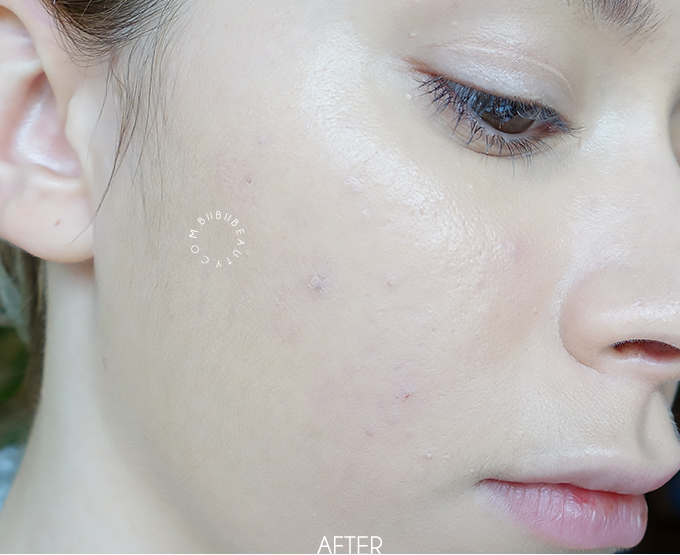 As you can see from the above photo, this cushion covers acne and post acne scars easily with only one coat while leaving the skin looking dewy and healthy! My skin was left with a lovely glow while looking poreless and flawless. I absolutely love it, especially because of the coverage which I would rate as a product with medium to full coverage product.
Overall
Overall this bb cushion covered my acne & acne scars with easy. It is very dewy and moisturizing on my dry sensitive acne prone skin. Like most Innisfree makeup products, this cushion did not cause me any breakouts or irritation. When I set the t-zone with a setting powder, this product lasts me all day (up to 8 hrs of coverage) without getting blotchy or looking cakey.
I highly recommend this as the best bb cushion for those with dry sensitive acne prone skin. Especially is you are looking for an affordable great quality cushion. This is a great choice!
I have always been a fan of Innisfree products and this is one that has not let me down! Sometimes, Innisfree base makeup isn't always a hit with me, but this one is perfect for the winter time for that flawless dewy look!
Recommended for those with:
Dry skin
Sensitive Skin
In need of coverage
Not recommended for those with:
Oily skin
Does not want high coverage
Prefers matte skin
Where to Buy?

I purchased my Innisfree Ampoule Intense Cushion Cover from my local Innisfree Store in Korea.
However you can purchase your own online from the bellow Innisfree Official Online International Shop.
Mine is in shade #23.
---
---
PIN IT!